Having watched numerous k-dramas and sometimes K-Pop I admitted that sometimes similar faces appear and I have difficulty to differentiate. K-dramas are known to have formulas to keep viewers interested, but nothing more interested than birth secrets. Whether it was baby swapping at birth like
Autumn in My Heart
(2001) or title-relevant drama titled
Birth Secret
(2013). And here I list some great actors and actresses whom I found have similar faces, familiar features or posture that
people may mistakenly seen as family.
These actors and actresses are well known in South Korea and even some fans admitted that maybe they somehow related as family.
Long Lost Brothers/Sisters
1
1. Kim Jae Won/Lee Jong Suk
When I watched first episode of School 2013 and watched Go Nam Soon I am stunned at the striking similarities between Lee Jong Suk and Kim Jae Won. I automatically compare his face with Kim Jae Won and even browsing at their pictures. They both have oval, white, almost pale face. Not to mention their killer smiles that will kill every fan...
Their drama characters ranging from high school boys to lovely Joseon guy but they always look cute and handsome and awesome. I even foresee Lee Jong Suk will have similar career path with Kim Jae Won. Only to be more famous and internationally and domestically acclaimed.
22. Yoon Eun Hye/Park Shin Hye
I have known Yoon Eun Hye first, naturally, from her roles in Coffee Prince (2006) and I Miss You (2012). I also admit that I don't even know Park Shin Hye face and just knew her name though Park Shin Hye also famous star. I just realized their uncanny resemblance through Running Man episode when she had been guest with Lee Seung Gi. From there I believe Eun Hye and Shin Hye are long lost sisters who happen to have different last names. YEH and PSH have similar facial expressions and features. They both known to be lucky worked with some most famous and handsome actors in Korea. YEH with Joo Ji Hoon in Goong/Princess Hours, Gong Yoo in Coffee Prince, Kang Ji Hwan in Lie To Me, and most recently with Yoochun in I Miss You. Whereas PSH already worked with Jang Geun Suk in You Are Beautiful, Yonghwa in Heartstrings, Yoon Shi Yoon in Flower Boy Next Door, and has worked with LEE MIN HO in Heirs. How lucky they are! Maybe the only glaring difference between them is their ability to do on-screen kiss. While YEH is famous to create hot kisses, PSH is known notoriously bad at kiss and maybe well like cardboard.
33.

Choi Siwon/Go Kyung Pyo
Who else think that Siwon and Go Kyung Pyo look like brothers? Or who else got tricked by GKP when he impersonated Siwon in Saturday Night Live that featuring Super Junior? At first I don't see any resemblance because they sporting different hair styles. But when I looked at SNL episode I almost got tricked by Go Kyung Pyo who playfully danced and acted like Siwon. They have similar heights and postures and at a glance people are easily not noticed their differences.
Long Lost Aunt/Niece and Uncle/Nephew
11.
Lee Young Ae/Moon Geun Young
Have you ever watched Dae Jang Geum/Jewel in The Palace (2003)? Ever since I watched that drama I always get bothered whenever a drama depicted their hero/heroine young self who doesn't even look like him/herself. Dae Jang Geum was great and the actress that played young Jang Geum was not bad but they don't have any resemblance on facial features or body postures. I wished at that time that the young Jang Geum will be portrayed by Moon Geun Young because their resemblance. Though when Dae Jang Geum aired I don't know MGY, I just know she is the actress who played young Eun Seo in Autumn in My Heart. Now, 7 years after Dae Jang Geum aired on my national TV station I know the answer: they indeed are look-alike. Just see at the promo pictures of MGY latest drama Goddess of Fire, Jung Yi (2013). She worked as royal potter that served royal palace while Jang Geum worked as royal physician. They have similar hairstyles, clothes, and accessories. Being long lost Aunt and Niece is possible right?
22. Bae Soo Bin/Yeo Jin Gu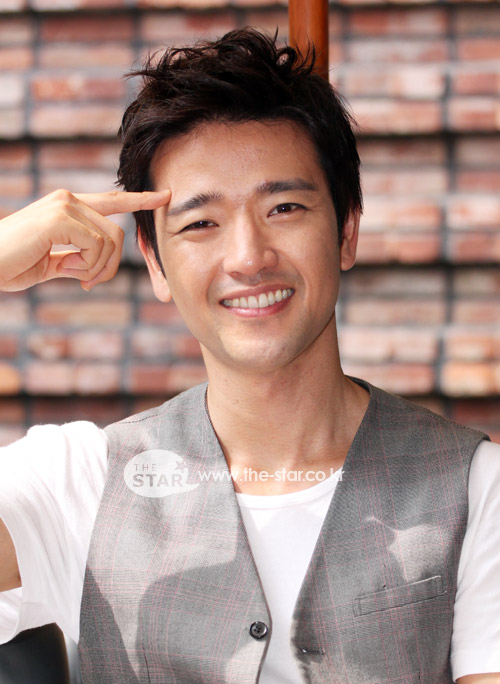 They have similar looks, similar intense and charismatic eyes and they both really a hoot!! I realized their similarities when I watched Yeo Jin Gu first time in I Miss You as young Han Jung Woo (the adult role played by Yoochun) and watched Baek Soo Bin in 49 Days (2011). Same as above point, I cringed at almost non-existent similarities between Yeo Jin Gu and Yoochun and hope that someday he will play the younger version of Baek Soo Bin. BSB and YJG both can play as fierce and strong man but also can act as a man fall in love and smile stupidly for the woman they love. Last but not least, they both adorable as an oppa or noona killer!!
34.

Baek Young Joon/Kim Hyun Joong
Many k-drama viewers and fans already know it. I just want to make sure in this list they won't go unnoticed. They look alike the most when they have long and blonde hair like Kang Jun Sang/Lee Min Hyung in Winter Sonata (2002) and Ji Hoo in Boys Before Flowers (2009). They have same sad face and longing eyes, looks that melted every woman heart. Funnily, they became close and having hyung-dongsaeng relationship after people noticed their resemblance. In an interview KHJ told the audience that they really close and BYJ even seek potential date through him.
Hopefully casting directors, writers and PDs across South Korea will notice and create the pair of long lost family in future dramas. With their looks and talents it's hard to ignore them, right? Maybe somewhere in Dramaverse we will be able to see them act together, preferably in daily dramas with 50+ episodes so I can watch them every day and notice every similarities and differences.